Home is really where the HEART is, and My heart is with everyone affected by this storm. While I am so lucky that my friends and family (including me) are safe and sound, my heart hurts like the people without everything that makes their home, feel like home to them are my very own family and friends.
During the night, my broken open window, right by my bed (
which can't be fixed because there is not enough gas for the repair men to get here
) keeps me freezing and the noises around the city are so loud I haven't slept well in days. I just lie there at night and my heart literally breaks because I can't help but think how beyond so blessed I am to have a bed, a working heater, power, food, clothes, towels, shoes, blankets to keep me warm, the list just goes on and on. There is SO MUCH that I have to give.
Watching this city come together and have an outpouring of people with HUGE HEARTS just give to each other and give so freely is amazing. God is LOVE.
There are so many ways, no matter where you are in the world, that you can help, too...
You all know how my heart is with my church,
HillsongNYC
(click here to donate to our Sandy Relief Fund).
Here is a video played for us at church yesterday. This video moved me to tears...
Hurricane Sandy Update from HillsongNYC on Vimeo.

Our church has extended outreach and volunteers to so many places, the ROCKAWAYS being one from the video. Help the rocaways HERE.

If you live in the city you can help too, here is how:
Google has an amazing interactive map of Shelters in the area where you can donate items (or your time) along with the specific needs.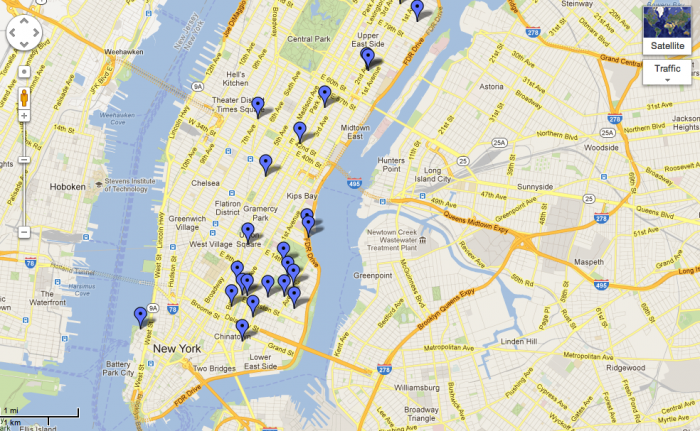 HERE is another list of ways to help in the city. Lower East Side RECOVERS has several kinds of ways to give, see the list HERE.


More ways to give...thanks to Nicole:
Saloon NYC
is accepting donations to the Rockaways and Broad Channel. Supplies and food (no clothing, please) dropped off there will be delivered to St. Francis des Sales church in Belle Harbor, NY. 1584 York Avenue, New York, NY 10028 (Between 83rd & 84th St) 212.570.5454
The Bowery Mission is accepting donations for the homeless at both locations. Volunteers should report only to the Bowery Street location. 45-51 Avenue D, (212)777-3424 and 227 Bowery (212) 674-3456.
The Uptown Dropoff for the Bowery Mission is 132 Madison Avenue (at 31 st).
If any city people want to donate or volunteer their time in the city, any day this week, they should go to the big gray stone church on90th St. bet 2nd and 3rd Ave. They are set up to sort mdse and have Shleppers movers deliver donations to the needy.
There will be collections of any type of goods at Molly's Pub 85th St and 2nd Ave.
All weekends this month. And they too have trucks on the block who deliver these donations to SI.
If you have clean winter clothing for infants, toddlers, children and adults, you can drop them off or mail them to the address below: Zion Physical Therapy, 1556 Third Avenue, Suite 211, New York, NY 10128 All of the donated items will be picked up from this location on Wednesday, November 7, 2012, no later than 8:00 pm.