1. New York has been absolutely amazing lately. The weather has been magical, just completely encouraging for getting out and wandering the streets and it has given me energy to be extremely more productive at work. I love the sunshine... So lovely!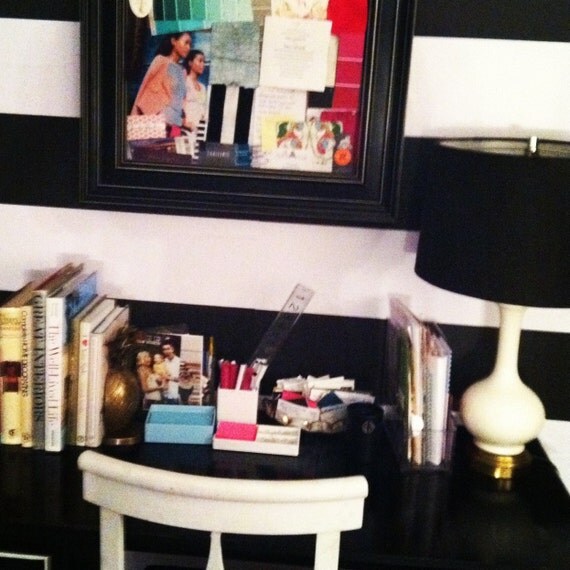 2. My wallpaper line is almost done. There is so much work going on behind the scenes...it's insane.
However, because so many of you have been asking where to get the wallpaper, I am officially selling the first one in my
ETSY SHOP
. Self-adhesive, peel and stick wallpaper. It's
black and white striped
perfection...nothing excites me more. I just can't wait for the real shop and rest of the designs to be up!
3. Neutrals + Neon. We all love it and Ann taylor made some sweet flats to let us relish in the beauty. I am obsessed with these. So darn fabulous! And all I need is
THIS BAG
to match!
4. Floral wallpaper just rocks my world right now...I'm very inspired.
5. I adore these girls. They are my team of foodies (we have one missing, she was making things happen). I've never appreciated the fabulous dining in this city until I started being forced to...so thankful for them.
6. I finally got a legit blogger camera. I'm sure I am the last one to the party but honestly, my point and shoot just doesn't cut it anymore. You know??? I am obsessed with this one (
Canon Rebel T3
), its the PERFECT starter camera and I am having a blast with it!
7. My amazing, amazing dad bought me this
Michael Kors gold watch
. It's bangin' and so blingy and I just love everything about it.
8. I went shopping for metallic gold paint again. Super exciting project in the works...stay tuned.
9. Now who wouldn't love a mirror like this somewhere in their home? I spotted this in Living Etc magazine and I just fell for it. So sweet.
10. I absolutely LOVE this book.
New York Interiors
by TASCHEN. Looking at apartments in this city is completely exciting. I could do it all day long.